Your career at OCM

Discover what you're capable of and use it to make a difference. Challenges, support, opportunities, inspiration, and development - we want to make your career path unique.
Because we at OCM know that at the beginning, centre, and end of all things is the potential of the individual. We want to realise your potential.
Ready for one hell of a ride?!?
What can you expect at OCM?

OCM Management Consultants is a management consultancy specialising in modern procurement consulting, logistics & supply chain management, and sustainable value enhancement. We are entrepreneurs and problem solvers. In times of globalisation and digitalisation, we help our customers generate competitive advantages through cost optimisation, improved efficiency, and sustainability.
To do this, we need innovative, smart minds who possess the ambition to work with the client to find the best solutions and realise them in a sustainable manner. The challenges and industries of our customers are as diverse as they are exciting and promise incomparable experiences and the potential for constant personal development.
In addition to your development, we strongly promote self-realisation, entrepreneurial thinking, and personal well-being. At OCM we are convinced that only together, with good humour and a common goal, can we achieve sustainable success!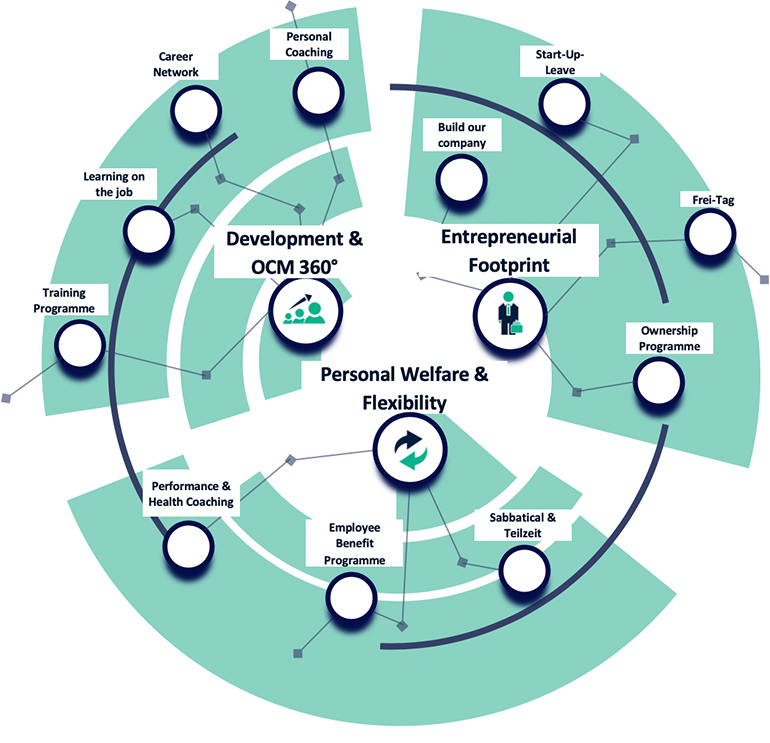 Career Network
Access exciting projects, important exchanges, and career development through our network. We would like to support your professional growth and help you with your current and future career steps, thus enabling you to achieve personal goals
Personal Coaching
Your mentor will be your advisor, coach, critic, and supporter and will help you achieve your goals. He/she is your contact and confidant and supports you in finding actual solutions to your questions and problems. He/she is available at short notice and discusses your development and current challenges in 60min one-to-ones every two weeks.
Build our Company
In our still young and growing company, there are many opportunities for you to play a decisive role in shaping our future and to continue to develop and celebrate success together. Be it through the further development of our consulting expertise, through your contribution to the development and expansion of the functional divisions, or through the support of our start-up projects – the possibilities are unlimited.
Start-Up Leave
In order to gain entrepreneurial experience and get fully involved in your own concepts, we offer you the opportunity to take part in one of our exciting start-up projects. The ideas and products usually arise from consulting projects and solve a problem in the broader context of procurement, logistics, or supply chain management.
Friday aka Free-Day
We believe in the innovative power and inventiveness of our employees and therefore make it possible to participate in the OCM Free Day Program. In this program, participating employees can devote all their time every Friday to a topic, a project, or a learning area, which helps our clients and the company to simply 'become better'.
Learning on the Job
With us, you are a full team member from day one and contribute to our shared success. We believe in our employees and that the best way to learn and grow is to experience uncertain situations and challenges and work closely together to solve them.
Training Programme
Through our structured training program, we introduce you to modern procurement, logistics, and supply chain management. You will learn both strategic and day-to-day skills in order to become successful in our projects.
Performance & Health Coaching
In order to enhance your personal development and your well-being and health, we regularly employ modern and innovative methods developed by experience coaches concerning the topics of performance and health. Some of the topics are self-organisation, nutrition, health management, and training management.
Employee Benefit Programme
In order to make life more pleasant for our employees outside of their everyday working lives, we support them with our mobility offer, participation in our gym program (with access to over 90 fitness studios in Munich), and our company events (Oktoberfest, ski trip, Isar rafting, etc.).
Sabbatical & Part time work
By offering flexible work-life programs, we give our hard-working employees the chance to fulfil their personal dreams. Whether it's exploring the world, continuing education, or something else entirely, we believe that only a fulfilling life can enable outstanding performance.
Ownership Programme
In our Ownership Program, you assume the entrepreneurial responsibility for a business area, customer segment, or corporate function. Together with management you will formulate goals, a strategy, and be responsible for implementation and P&L. We will encourage and challenge you in order to develop your entrepreneurial initiative and to bring it into client work.
Who are we looking for?

We are looking for a diverse range of personality traits, skills, and experience to be able to support our clients with their challenges and in shaping their future.
The ideal OCM candidate combines willpower and determination coupled with a conviction in our shared values.
Confidence and the ambition to comprehend even the most difficult challenges and to question the status quo even amongst resistance are the qualities we look for and ultimately help us grow successfully as a team
Graduates and Students:
We recruit graduates with an excellent` academic record from renowned universities and business schools as business analysts. During their studies, we offer these students the opportunity to gain experience and insights into management consulting through an internship, a working student position, or a supervised thesis.
Experienced Hires:
Of course, we also recruit experienced candidates with relevant experience in procurement, operations, logistics and supply chain management as well as top talent from all other professional fields.

Successful candidates usually have the following qualities:
strong analytical and problem-solving skills

innovative, quick thinking and the ability to prioritise the essential

clear, precise, and efficient communication skills with the ability to convince and persuade

high degree of authenticity, motivation, dynamism, and willpower
Our Values
Your problem, our problem
We are problem solvers and optimisers. We make our client's challenges our own. With the perspective of an entrepreneur or business owner, we take responsibility and always strive for the best possible results. We commit fully and dare to break new ground in order to find and implement the most appropriate and sustainable solutions.
Be curious and innovate
We are driven by curiosity and the desire to learn. We want to better ourselves every day, and actively shape the changes of our time. Innovation, passion, and receptiveness to new ideas allow us to offer up to the minute services and solutions.
Be authentic - play for the team
We are team players. Helpful and down-to-earth, we always keep the common goal at the forefront of our minds. The power of discussion replaces hierarchies – we talk openly and honestly. Trust, empathy, and authenticity are the values that underpin our actions, our demeanour, and our desire to collaborate.
Challenge - Commit – Deliver
Challenge: We strongly believe that the best ideas come from dialogue and the exchange of ideas. We therefore encourage everyone who works with us to bring forward ideas (thesis), to challenge these ideas (antithesis), and thus contribute to the optimum solution (synthesis).
Commit: We do everything in our power to guide our clients on a path to success. Even the best solutions are ineffective without the support of everyone involved.
Deliver: Our commitment applies not only to the present moment, but to the actual, sustainable implementation of a successful solution!
Simplicity
If you can't explain something simply, you haven't understood it – one of our most essential mottos! We want to convince with results, solved problems, and added value – nothing else!
An obsession with improvement
To see how an improvement is developed, is implemented, and then helps our clients achieve their goals motivates us and brings us great pride. Setting ambitious goals every day and measuring ourselves against the highest standards engenders our aspirations and drives us to strive for excellence.